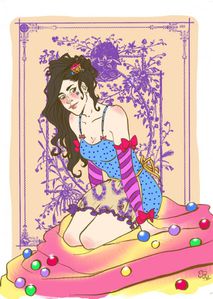 ---------------------------------


---------------------------------

• Prénom : Lulu
Age : 24 ans
Date Naissance : 29 Juillet 1988
Ville : Lyon

Pays : France

• Etudes :2012-2014 : Master en Histoire de l'Art,
Université Lyon2, Lyon (69)
2009-2012 : Licence Histoire de l'Art,

Université Lyon2, Lyon (69).


2007-2009 : BTS Communication des Entreprises,

Lycée Condorcet, St Priest (69).

• Musique : Folk, Indie, Acoustique,
Pop, Rock,
Hard-rock, Classique.
Indochine, Muse, The Shins, Yann Tiersen, Yimura,
Yoko Kanno,
Erik Satie, Message for Bears, DeVotchka, Great Lake Swimmers, Lonely Drifter Karen, Cocoon, CocoRosie, Chris Garneau, Kat Tingey, Ivy
, A Weather, Beirut,
Basia Bulat,
Iron and Wine, Fleet Foxes, Sufjan Stevens, Damien Rice, Piers Faccini, Nick Drake, Devendra Banhart, Born Ruffians, Ra Ra Riot,
The Dodos, Sliimy, Bat for Lashes, Florence + The Machine, The Ting Tings, Moriarty, MGMT,
Panic! At The Disco
, The Empire of the Sun, Antsy Pants, Snow Patrol, Syd Matters, The Arcade Fire, YuleS, Cat Power, Feist, Frou Frou, Enya,
Air,
AaRon, Antony & The Johnson, Coldplay,
CSS, Plain White T's, Gomez, Beck, Radiohead,
Simon & Garfunkel, The Dandy Warhols, Vampire Weekend, Blue October,
Moby, The White Stripes, Depeche Mode, Massive Attack, Portishead, Radiohead, Blur, The Kooks, Bloc Party,
The Beatles, U2, Blue Foundation,
AnCafé, Yui,
L'Arc~en~Ciel, The Pillows, Asian Kung-Fu Generation, Kaiser Chiefs, The Killers, The Strokes, Interpol,
Franz Ferdinant, Red Hot Chili Peppers,
Oasis,
Ghinzu,
Benjamin Biolay, Saez,
30 Secondes To Mars,
AqME,
Linkin Park, System of a Down, Nightwish, Within Temptation, Marilyn Manson,
My Chemical Romance,
HIM,
Era,
Daft Punk, Le Donjon, les musiques de films, les OST d'animès...

• Films : Orgueil et Préjugés, Roméo + Juliette, Kick-Ass, Sherlock Holmes, Lost in Translation, Le Fabuleux destin d'Amélie Poulain, Cashback, The Fall, Eternal Sunshine Of The Spotless Mind, Brockback montain, Marie Antoinette, Bienvenue à Gattacca, Elizabethtown, Vous avez un message, (500) jours ensemble, Irrésistible Alfie, Love Actually, A bord du Darjeeling Limited, Juno, Joyeuses Funérailles, Bons baisers de Bruges, Little Miss Sunshine, P.S. I love You, The Jane Austen Club, Becoming Jane, Emma l'entremeteuse, Raison et Sentiments,
Twilight,
Across the Univers, La Môme, Sagan, Persepolis, Le Prestige, The Truman Show, La mauvaise Education, Into the Wild, 99 Francs, Immortel Ad Vitam, Kill Bill,ulp Fiction, V pour Vendetta,Sin City, Iron Man, The Dark Knight, Le Seigneur des Anneaux, Kingdom of Heaven, 300, Gladiator, Alexandre, Wanted, Matrix, Animatrix, Star Wars, X-men, Iron Man, The Watchmen, Star Trek, Underworld, Sweeney Todd, Edward aux mains d'argent, L'Etrange Noël de Mr.Jack, Vincent, Interstellar 5555, Metropolis (de Tezuka), Ghost in the Shell, les Ghibli...

• TV : Je ne regarde plus la TV... sauf parfois pour les Guignols de l'info et le Grand Journal de Canal+.
Séries : Bref, True Blood
, The Big Bang Theory
,
Torchwood,
Game of Thrones,
The IT Crowd,
Scrubs,
Pushing Daisies, Docteur Who, Nurse Jackie, Dead Like Me, North & South, Lost in Austen, Angela 15 ans, Dr House, Dexter, Heroes, Californication, Veronica Mars, Malcom, Stargate SG-1, Buffy...





• Animés : Antique Bakery, Black Lagoon, Blame!, Bleach,
Bokura ga Ita, Byousoku 5 Centimeter, Casshern Sins
,
Cowboy Bebop, Code Geass (& R2), Comedy, Death Note, Emma, FLCL, FMA, FMP, Genshiken, Ghost Hound, Haibane Renmei, Hellsing, Higashi no Eden, Honey & Clover,
Kaichou wa Maid-sama,
Kamichu !, Kanojo to Kanojo no Neko, Katanagari, King of Bandits Jing, Kino no Tabi, K-on !! (s1-2), Kure-nai, Kuroshitsuji, Loveless, Mahou Tsukai ni Taisetsu na Koto, Mouryou no Hako, Mushishi, NHK ni Youkoso!, Nodame Cantabile (& Paris-Hen & Fniale) One Piece, Ouran High School Host Club, Paradise Kiss, Paranoid Agent, Ristorante Paradiso, Saishu Heiki Kanojo, Samurai Champloo, Sayonara Zetsubô Sensei (& Zoku Sayonara Zetsubou Sensei), Shigofumi, Texhnolyze, Victorian Romance Emma (& 2sd act), Wolf's rain, Working !, XXXHolic...



• Dramas :
Orange Days,
Nodame Cantabile (& Paris Hen),
Antique, Last Friends, Aka Tenshi Angel,
Daisies,
Nobuta wo Produce, Strawberry on the Shortcake, Akihabara@deep, IWGP, Sapuri...


• Livres :
Romans, Fantastique, Bit-lit, BD...
Jane Austen
,
Stephanie Meyer, Amélie Nothomb
,
Anna Gavalda, Sylvie Testud,
Lolita Pille,
Bernard Werber,
Baudelaire,
Enki Bilal,
Loisel, Yslaire, Tardi, Philip Pullman,
Barjavel,
Apollinaire, Edgar Poe, J.R.R. Tolkien...

Twilight,
Orgueil et Préjugés,
Anita Blake, Auprès de moi toujours, Des cornichons au chocolat, Je m'appelle Jeanne Masse, Jaz Parks, Les Mauvaises Nouvelles,
Hygienne de l'Assassin,
Les Fleurs du Mal,
99 Francs,
La Trilogie Millenium, L'Encyclopédie du Savoir Relatif et Absolu,
Hell,
Le Magasin des Suicides, Chéri, Le Seigneur des Anneaux,
Roméo et Juliette,
Je voudrais que quelqu'un m'attende quelque part
,
Le Parfum (histoire d'un meurtrier),
Gamines, Miss Charity, L'enchanteur,
Jonathan Strange & Mr Norrel
,
Harry Potter,
Alcools, Les (Nouvelles) Histoires Extraordinaires, la Trilogie Nikopol...




• Mangas :
Mari Okizaki, Fuyumi Soryo, Kaori Yuki, Yukiru Sugisaki, Yayoi Ogawa, Ai Yazawa, Setona Mizushiro, Kouga Yun, Matsuri Hino, Takeshi Obata, Kaoru Mori, Clamp, Itou Mami, Kiriko Nananan,
Katsuhiro Ōtomo, Yukito Kishiro...

Seinen & Shônen

: Mushishi, Au revoir Monsieur Désespoir,
Pilgrim Jäger,
Leviathan,
Death Note,
Berserk, Goth, Hellsing, Dogs - Bullets & Carnage, Full Metal Alchemist, D.Gray-man,
Tsubasa Reservoir Chronicle,
Naruto,
Hunter X Hunter, Samurai Champloo, Full Metal Panic,
Inu Yasha,
One Piece,
Brain Power, Détective Conan,
Gundam Wing, Crazy Kouzu BC...

Josei & Shôjo

: Strawberry Shortcakes,
Rouge Bonbon
,
Blue, Every Days,
XXX Holic,
Mars,
Vitamine,
Après l'amour, la sueur des hommes a un goût de miel,
Shibya Love Hotel,
12 mois , Effleurer le Ciel, le Cocon,
Dernier Soupir,
Gilfriends, The Tarot Café,
Honey & Clover, Loveless, Emma, Au Café Kichijoji,
Nodame Cantabile, Bus Spring, Vampire Knight,
Meru Puri
, Fever,
L'infirmerie après les cours,
X Days, S,
Candy Life, Kimi Wa Pet,
Le Sablier, Ouran Host Club,
Paradise Kiss,
Nana,
Tenshi Nanka Ja Nai, Last Quarter,
Gokinjo,
Parmi eux (Hanakimi),
Hot Gimmick
, Sous un rayon de Lune,
Ichigo Mashimaro (les petites fraises),
D.N. Angel,
Fruits Basket,
Neiji,
Demon's Diary, Kill me Kiss me,
Les Descendants des Ténèbres, Global Garden...
Yaoi

: Le Jeu du Chat et de la Souris,
Kizuna,
Fake, Gravitation,
Gakuen Heaven,
Pure Love,
Lawful drug, Ludwig II.